Excellent Example Of Limestone Sand Production Line
Views: 4 Author: Site Editor Publish Time: 2020-09-25 Origin: Site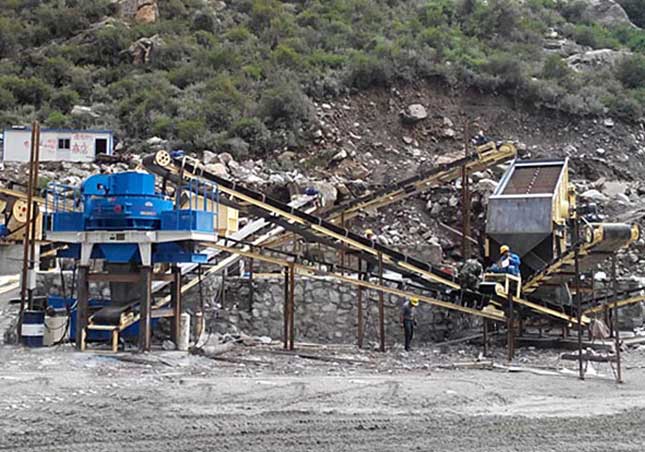 Processing Material: Limestone
capacity: 200T/H
Feed size: <45 cm
output size: 0-5mm,5-10mm,10-20mm,10-30mm
Application areas: highway, bridges and other projects
Equipment: Vibrating feeder GZD1100×4200, Jaw crusher PE750×1060,Impact crusher PF1315,VSI-8518 sand making machines,4YK2460 Vibrating screen,3YK1860 Vibrating.
Situation of the scene
The limestone sand production line is mainly used for limestone processing. After blasting, the material was coarsely crushed by the vibrating feeder GZD1100×4200 to the crusher PE750×1060, and then enter to the belt and crushing by impact crusher PF1315. The crush material is sent to the vibrating screen 4YK2460 screening conveyor with an output of 0-5 mm, which is part of the aggregate 10-30 mm. The rest of the material enters the conditioning chamber and is transported to the VSI-8518 for processing. the material is then sieved with vibrating screen 3YK1860. The final product will be 0-5mm, 5-10mm of high-quality aggregate and 10-20mm.
Customer assessment
Therefore, the quality of the finished product is absolutely necessary. After inspection and comparison, we chose the Nile's equipment. During product use, product performance is stable and easy to operate. The total size of the product and the size of the final product fully meet our requirements.