A full set of customized solutions for Qatar Metro
Views: 9 Author: Site Editor Publish Time: 2020-11-23 Origin: Site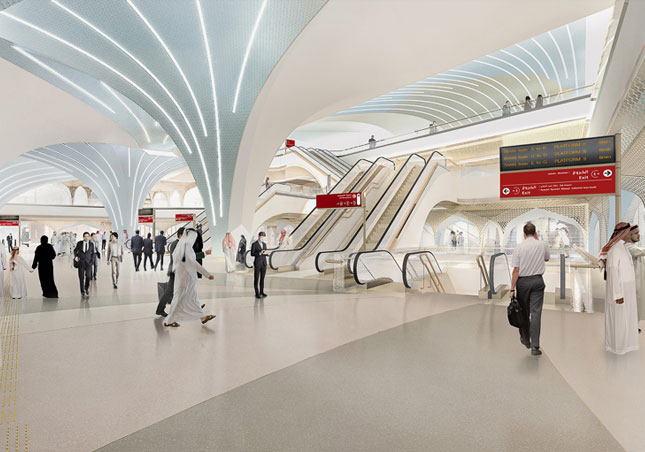 Project background and significance
The 2022 World Cup will be held in Qatar. This is also an excellent time for this Middle Eastern country to show itself to the world, and the rail transit here will also come in handy at that time. It will welcome all citizens, tourists and foreigners living in Qatar. person.
Therefore, Qatar invested a lot of human and financial resources to build the first underground railway system, from the capital Doha to the southern city of Alwakra. This is one of Qatar's large-scale projects. The Doha metro network is estimated to cost $36bn+. it is planned to be built in phases and will become one of the most modern railway networks in the world. Phase I of the project is total 195km with red line north, red line south, green line & gold line.
This is a milestone for Qatar. Many people said that they will use such public transportation every day to avoid road congestion and save money. At the same time, open the way for Alwakra and other places that people don't normally go to.
2. Difficulties in project construction
1. Efficient, stable and safe concrete mixing, transportation and pumping equipment is required to ensure the stability of concrete quality and ensure safe and efficient construction.
2. It is necessary to overcome the limitations of the site and carry out customized design and manufacturing of equipment.
3. A steel structure with reasonable design, stable quality and reasonable price is required.
3. Truemax solution
Truemax provided the whole solution for the track slab works for the lifting,transportation,pump,filling and so on. There are more than 50 units of Truemax heavy equipment working at the same time in peak construction phase.
1. Customized concrete pumping and transportation equipment increases the adaptability to the site, improves the pumping efficiency, and meets the needs of customers for the construction period;
Concerete stationary pumps, Concrete Truckmixers, Concrete fly buckets, Gantry Cranes, Trailers etc. Which are special design for Doha metrol project, total around 50units Truemax equipments available inside the tunnel at the peak time.
2.The steel structure with reasonable design and reliable quality meets the requirements of engineering quality.
Truemax provide the high-quality Bridge segment precasting framework with best support for Doha metro green line elevated & at grade to ensure the project finish in time.
3.The localized design and service concept meets the British Standard and the local technical standards of Qatar.
Truemax is also the main supplier for permanent steel works for Doha metro, include walkways, cable trays, handrails, ladders, etc, total around 8000Ton steel works for Red line south, Green line & Golden line. All the related materials, fabrication, documentations are strictly follow up with BS & QCS standard.
4. Photos
5.Customer Reviews
PORR is the largest bridge and tunnel company in Europe,and HBK is largest construction contractor in Qatar. As a supplier, we have obtained their high recognition and wrote a letter of recommendation to our company.