What are the benefits of using a concrete placing machine to hit concrete?
Views: 0 Author: Site Editor Publish Time: 2022-03-02 Origin: Site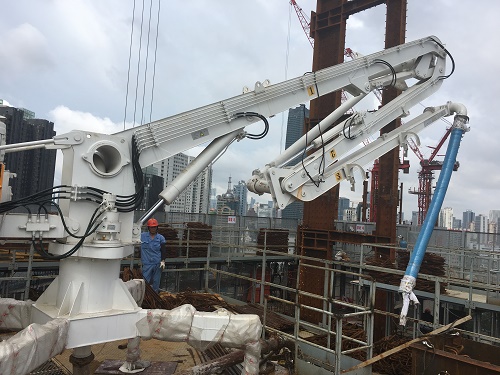 What are the benefits of using a concrete placing machine to hit concrete?
1.Concrete placing machine saves three to five laborers;
2.The concrete placing machine can save the tower crane,and there is no tower crane material during construction;
3.Improve the construction efficiency by 2 times;
4.The concrete placing machine can replace the construction area that the tower hanging pipe cannot reach;
5.Safe construction,concrete cloth machine cloth is safer than pipe hanger construction cloth;Xinrui heavy industry concrete cloth machine can meet the construction requirements.
As an auxiliary equipment of concrete conveying pump,the concrete distribution machine is connected by a standard conveying pipe,just like a manipulator can quickly and accurately convey to any pouring part of the operation surface and continuously pour it,which better solves the distribution problem of concrete conveying,greatly reducing the labor intensity and improving the construction progress and quality.The manual cloth machine is different from the new type of cloth machine and electric cloth machine.
Features are convenient.
Yongxiang cloth machine-generally adopts channel steel or round tube structure.arm.Standard bearings.Wear-resistant delivery pipes.The addition of large counterweight boxes,etc.,improves the stability and possibility of the equipment.Easy to rotate 360°reversely and completely rotate,just pull the rope to adjust the cloth radius and change the cloth direction,it is one of the ideal equipment for engineering construction.