Product Features of Concrete Pump Truck 63m
Views: 1 Author: Site Editor Publish Time: 2022-03-01 Origin: Site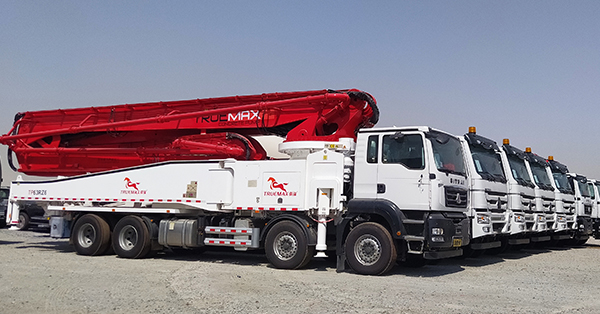 Features
Advantage 01:good power performance
Using Yuchai,Weichai and other engines,the advantages of low speed and high torque are obvious;the whole vehicle has passed the environmental protection test.
Advantage 02:Using original accessories,durable
The original German Spall transfer case,the American Eaton sunny valve group,the German Rexroth main oil pump,the German HAWE(Harvey),and the Italian multi-way valve are used.
Advantage 03:New boom,more stable performance
Through the research and development of lightweight boom structure and processing and production technology,Baosteel high-strength sheet material is used,which is 10%lighter than similar products,stable in performance,and has the function of frequency conversion and anti-vibration,which makes the boom stable;the new 5RZ boom is higher than other products.Increased by 15%and cloth range by 20%.
Advantage 04:Pumping,easy maintenance
The pumping system is equipped with a large-diameter conveying cylinder,which has the advantages of good suction performance,less reversal times,large outlet pressure,and high pumping efficiency,which not only reduces wear but also reduces operating costs;in terms of wear resistance of wearing parts,The use of new wear-resistant materials,processes and technologies greatly improves the life of vulnerable parts and reduces the difficulty of maintenance.
Advantage 05:Flexible and reliable construction
The overall vehicle has small dimensions and good passing performance.In view of the problems of narrow roads and narrow spaces in urbanization construction sites,the vehicle is easy to move,flexible and stable.