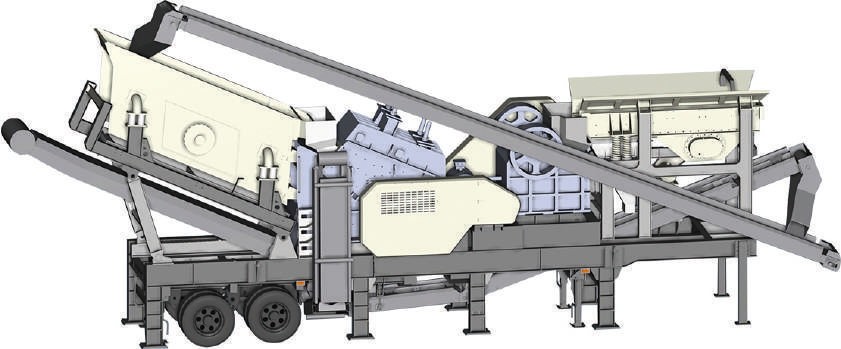 How many styles and models are there in the general stone crusher? This is a lot of bosses that are not clear. There are many in the crusher, mainly by the following:
Jaw crusher, anti-crusher, cone broken gravel machine, hammer crusher, mobile crusher, roller crusher, single forged crusher, impact gravel machine, etc. There is a lot of seeds, so each of them is adapted to different sites. It is recommended to select a suitable device according to its own production needs, and the performance characteristics of each gravel machine can be referred to.
The price of the crusher is also set according to different signals. The boss has demand to contact TRUEMAX customer service directly, they will decide according to our venue.
The hammer crusher is mainly used in stone crushing, highway railway construction, housing and other industrial applications. It is especially suitable for medium hardness stone and limestone.
Hammer crusher internal rotating hammer and stone rapidly crash crushing material.
It mainly has the following advantages:
1. Simple structure and high production efficiency. It is also very easy to operate;
2, once formed, no need to break twice. Low energy consumption, investment;
3, it can break the wet material, can add water when crushing the material, which can reduce dust, protect the health of the workers;
4, can adjust the gap and change the size of the discharge. Meet the needs of different users.
Of course, the hammer crusher also has its shortcomings, such as:
1. The hammer head and ribbed wear are relatively fast;
2, broken wet materials, easy to block ribo slits, is likely to cause downtime. The jaw crusher is also mainly used for the breakage of the medium hardness material, in addition, the jaw crusher is also divided into simple swing jaw crusher and complex swing jaw crusher.
Truemax's jaw crusher has the following advantages:
1, with high crushing ratio, uneven particle size;
2, the structure is simple, the performance is reliable;
3, easy to maintain, run economy, etc .;
4. The wear resistant used in the addition of Truemax is excellent in manganese steel castings.
The jaw crusher also has its shortcomings:
1. The broken ratio is relatively small, and it is not uniform, and the large block is more;
2, producing dust, the jaw is easily worn.
You can check online to check Truemax, the crusher products are complete, and there must be questions about the crusher you want to understand.