High-rise building large area concrete pouring artifact
Views: 1 Author: TrueMax Publish Time: 2022-03-05 Origin: TrueMax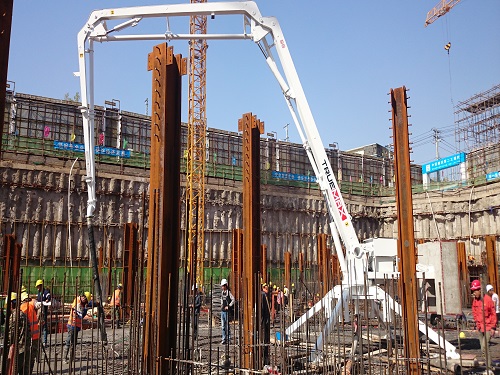 High-rise building core tube pouring
The core tube pouring of high-rise buildings has relatively high requirements on the label of concrete:C40 or C50,etc.When pouring concrete,the quality of concrete must also be considered to prevent cold joints in concrete.It is also necessary to ensure the convenience of the placing machine.Relatively speaking,the"smart placing machine"is a more suitable one,because the intelligent placing machine is convenient to use,saves time and effort,and can achieve the effect of one-time pouring and forming.
How to choose the type of intelligent cloth machine
We need to consider the coverage range when selecting the type of intelligent distribution machine.Traditionally,the coverage area ofthe distribution machine is from 10 meters to 18 meters.It is impossible to achieve full coverage,so it cannot achieve one-time casting.There are all kinds of meters,and the selection range is relatively wide.The selection is made according to the project situation.The installation conditions can be selected:formwork type distributor,elevator shaft climbing distributor,floor climbing distributor,mobile distributor and other models.
Peripheral pouring of core tube
For high-rise buildings with core tube,the core tube is poured first and then the periphery is poured again.Most of the core tubes are more than 3 floors higher than the periphery.The traditional placing machine cannot carry out concrete pouring.The boom of the traditional placing machine is a horizontal arm,which is intelligent The placing machine can meet the conditions for the outer pouring of the core tube,and an intelligent placing machine can cover the pouring of the entire floor,which is also the artifact of concrete pouring in the current pouring field.