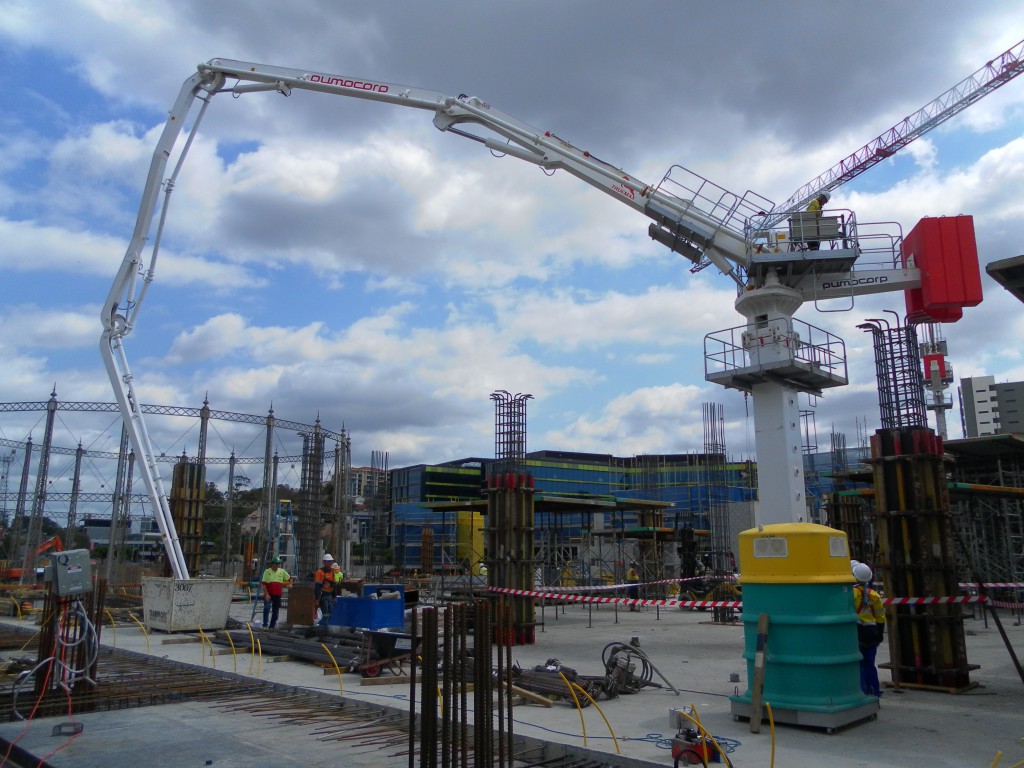 33m concrete placing machine factory direct sales-truemax
1. The boom assembly includes four R-type oil cylinders with four arms, one set of DN125 delivery pipes, and one 3-meter DN125 double-head flanged hose.
2. 1 set of boom inspection walkway
3. 1 set of upper support including 1 set of platform + railing, 2 sets of slewing mechanism
4. 1 set of slewing bearing
5. 1 set of lower support
6. 1 set of intermediate platform + 1 set of railing
7. Hydraulic system 1 set of hydraulic pump station 1 set, system pressure 30Mpa,
Motor power 22kw/380V/50Hz
8. Column 2*10m including ladder + 1 set of retaining ring
9. 1 set of electrical system including 1 electric control cabinet, 1 set of wireless remote control, 1 set of wired remote control
10. Inner climbing device floor inner climbing (optional elevator shaft inner climbing) includes 3 inner climbing frames and 2 jacking cylinders
11. 1 base frame including 16 anchor bolts
12. The concrete foundation provides the foundation map, and the customer pours
13. The balance arm has
14. The counterweight frame does not require 3 counterweight blocks for the whole machine. Drawings are provided, and the customer needs to make their own cables. There is no external cable from the external power supply to the cloth machine. The customer needs to provide the color of the whole machine. Guide installation, commissioning, training and other services
Note: Domestic automobile transportation: 17.5m flatbed truck/unit, container: 2*40HQ/unit
2. Main technical parameters
1. Model HG33A-4R
2. Cloth radius (m) 32.44
3. Independent height (to arm root hinge point) (m) 22.6
4. Rotation range (°) 360
5. Motor power (kW) 22
6. Hydraulic system pressure (MPa) 30
7. Hydraulic oil grade HM46 anti-wear hydraulic oil
8. The length of the boom (m) is 9.51 for one section, 7.56 for two sections, 7.65 for three sections, and 7.72 for four sections.
9. The rotation angle of the boom is 0°~86° for one arm, 0°~180° for two arm, 0°~180° for three arm, 0°~180° for four arm
10. Inner climbing frame spacing (m) climbing 3.0~4.2, fabric 6.0~8.4
3. Standby
1. Specification of concrete conveying pipe (outer diameter × wall thickness) (mm × mm) Φ133 × 4.5
2. Specification of concrete hose (inner diameter×length) (″×mm) 5″×3000
3. Operation mode 1. Wired remote control 2. Wireless remote control
4. Power supply 380V/50Hz
5. The wind speed of the fabric is less than or equal to 13.8m/s
6. Climb ≤7.9m/s
7. Working temperature -20~48℃
3. Main component brands
Serial number name brand remarks
1. Electromagnetic reversing valve ATOS (Italy) foreign brand accessories include joint ventures
2 bidirectional throttle valve ATOS (Italy)
3 Relief valve ATOS (Italy)
4 Rotary buffer valve NEM (Italy)
5 Balance valve NEM (Italy)
6 Hydraulic oil pump Shanghai Electric (China)
7 Hose EATON (U.S.A)
8 Connector EATON (U.S.A)
9 Main electrical components Schneider (France)
10 Wired remote control
11 Wireless Remote Controller Yu Ding (China Taiwan)
4. Product Features
(1) The boom is divided into four sections, R-type, fully hydraulically driven, flexible in folding and unfolding, and has a wide range of fabrics. The boom structure is made of high-strength steel plate, with high strength and light weight.
(2) You can choose wireless remote control or wired remote control operation mode, which is easy and convenient to operate.
(3) The inner climbing method is divided into floor inner climbing and elevator shaft inner climbing, which can better meet the needs of different construction sites.
(4) The main electrical and hydraulic components are imported well-known brands, with stable and reliable quality.